In a couple of weeks the new look Judge Dredd Megazine will be out (Issue 275, fact fans...), and debuting in the Galaxy's greatest Monthly Mag will be.... drumrol...
Tank Girl - Skidmarks, a 12 part extravawhatsit!
Proving how generous we are, this 8 page an episode is actually 9 pages per episode, as I'm doing extra stuff for free...
Now if you're not able to get a load of the Megazine easily (Which you can order through your local Comics emporium, newsagent, or online at www.2000adonline.com ) panic not.
Tank Girl - Skidmarks will be collected as a 4 part mini series for the amazing American market for the New Year (That's 2009, fact fetishists, and peoples held hostage without access to a calendar.)
Here's the cover to kick it all off...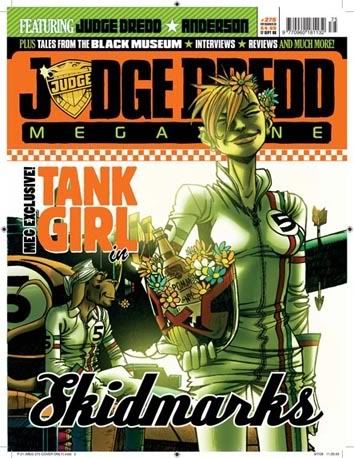 Hope you enjoy it.